22th July 2003




From Denmark to France
-in a battery powered electric car

Debriefing electric safari

To drive long distances in an electric vehicle is possible. With 3 phases charging the range of a day (12h) tour can exceed 400 km, where it would be approximately 200 km with single phase charging.

Power availability:
The 3 phase power is relative easy accessible during work hours at gas filling stations, who have a repair shop. In the evenings and weekends these repair shops are frequently locked and the power is not accessible. Very few places have the 3 phase sockets on the outside of their buildings. Also industrial enterprises and small service companies have the 3 phase sockets. The 1 phase socket is more frequently on the outside of the buildings. The 230 V single phase sockets are commonly the "Schuko" type like the normal house hold plugs on electric power equipment. These sockets are frequently with 16 A fuses.
Some service stations did not offer the service of selling power to the electric cars. They did not have a counter or they felt insecure of how it would work out!
I approached the people by telling them, that I have come to this place in an electric vehicle and would like to buy some power for a charge. Then I showed them the red 5 pin CEE plug and asked if they have such power option. If they had, we could connect and make a full charge. We never had a power failure like burned fuses even though the charger loaded the grid at 15 A current.

Payment:
The power for a full charging is 16-17 kWh and has been paid with 5 euros. This fee was generally well accepted and in some places they did not want to have any payment for the power.

Personal relations:
Generally the people were friendly and keen to help. Many took time to see the car and asked what distance the car can drive on a charge and how long time it takes to charge it. Only a few people refused to help us with power and we had to drive elsewhere. We spoke German to the Germans. If that gave us an advantage we do not know.

Driving experience:
We tried out various roads.
Motorway was fine as long the traffic was not too dense and the road was flat. Up hill performance with the car fully loaded was insufficient. The trucks came in from behind and they were not pleased with our climbing speed performance. On flat motorway be could do up to 110 km on a charge.
On country roads we drove 70-80 km/h and 50 km/h through towns. This gave also app. 110 km on a charge. That it didn't bring more distance per charge is due to a number of start-stop at traffic lights.
We tried hill climbing, where we climbed from an altitude of 200 m to 1.100 m over 41 km. At the top we had 18 % energy left. Downhill to an altitude of 400 m we gained (charging by regenerative breaking) 13 % over a distance of 13 km. 28 km after the top we had the same energy as at the top and we approached home with 3 % remaining energy and 85 km counted. The up and downhill driving do not make a big difference in achieved distance, when the car is not forced with higher power uphill than typical for flat road driving and the breaking energy is regenerative recaptured downhill.

Quick charging:
It is a great advantage the car is suitable for fast charging. With 3 phases 230 V 16A supply the batteries is charged with app. 9 kW direct current power starting with 130V 69A and ending at 150V 60A. The high charging power did not affect the batteries in any negative way. In fact the batteries are designed to be charged with twice as much current (150A). That the batteries are able to run 5 full charge/discharge cycles in the warm summer weather is due to the water cooled battery system the car has. We measured battery temperatures up to 42C, which is still acceptable for NiCd batteries.
Another benefit of quick charging is the increase in the optimum driving speed. If the charging time is long, it is best to drive energy efficient to save energy in order to save charging time. With high charging capacity it is a benefit of driving faster to come more quickly to recharging. Practically with the single phase charger, the best driving speed is app. 60 km/h and with 3 phases it is app. 80 km/h. We noticed this on some of the distances we did. If we were cruising slowly and energy efficiently we spent too much time on the road relatively to the distance we did.

Conclusion:
The trip from Denmark to France and back was worth it. It was full of excitements and good experiences. The waiting time during the charging newer felt too long and power was not too difficulty to find.

Remarks:
If the batteries could have been swapped with charged ones instead of been charged in the car, the tour could have been done in almost half the time and almost in the same time as it takes a petrol car.
The 3 phase power sockets should have been common at the exterior of all service stations. External power sockets can be made for small money!

Thanks to all those who assisted with power, those who sent us e-mails, to AVERE who sent us PR leaflets, to Hoppecke Battery Factory who showed us battery technology and not at least to Knut Abrahamsen who reported the trip on www.evguide.nu

The Battery Electric Vehicle (BEV) is not dead, but upcoming!!!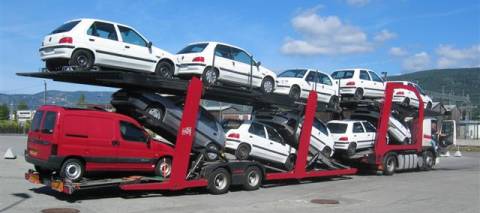 This is a delivery of mainly CitroŽn Saxo El, the sister model of my Peugeot 106 El, to Elbilsalg.info in Norway in mid July 2003 :-)


Eng. Anton Bech
antonbech@mail.tdcadsl.dk


Here you will find a little map with the route >

Also take a look at Scandinavian long distance driving EV users